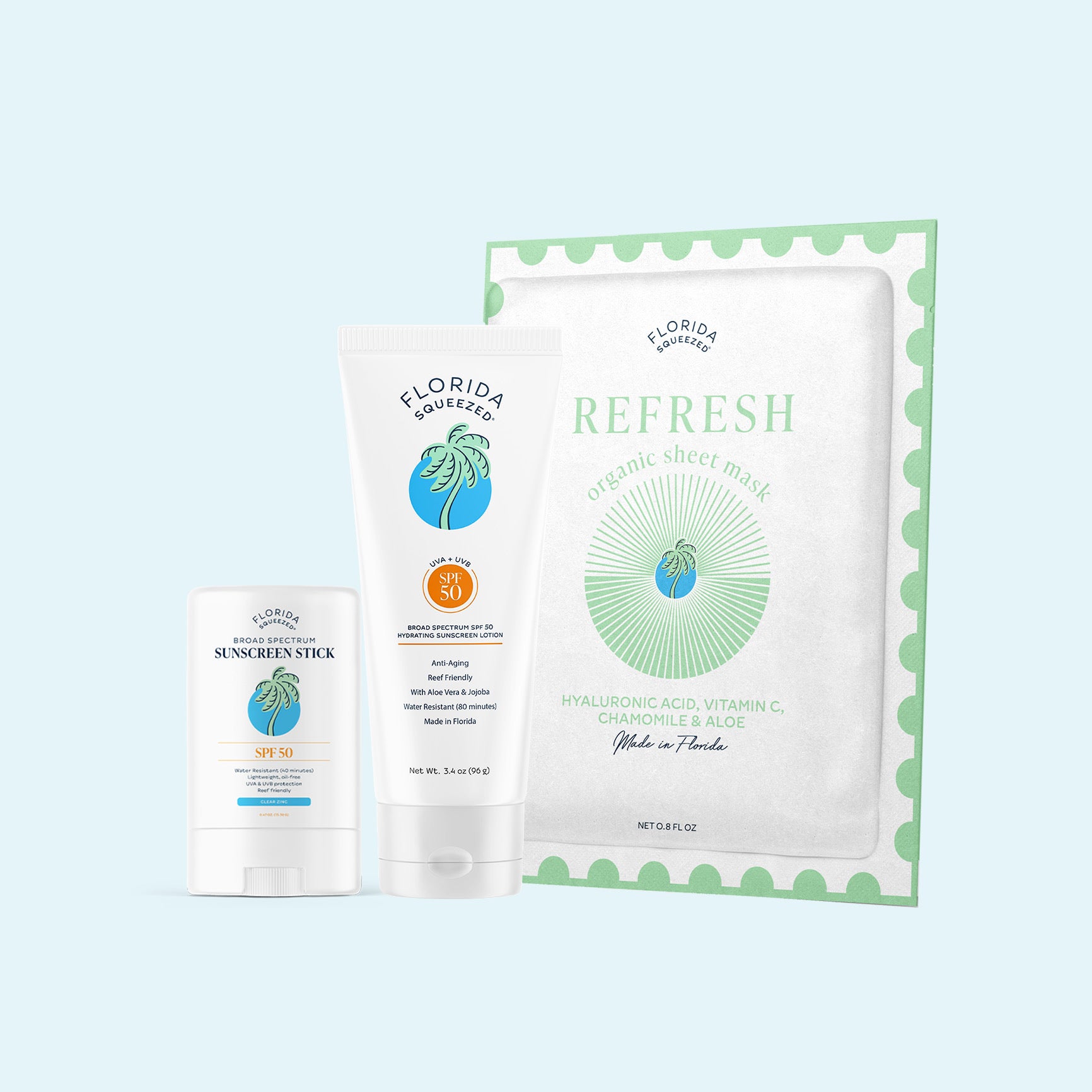 Florida Squeezed
The Traveler Bundle
Regular price
$40.00
Sale price
$36.00
Save $4.00
/
Introducing "The Traveler" bundle, the perfect set of Florida Squeezed products for anyone who loves to explore the world while keeping their skin looking and feeling great. This bundle includes three essential products that you can take with you as a carry-on on a plane, so you'll always be ready to take on whatever adventure comes your way.
First up is the SPF 50 Mineral Face Stick, which is perfect for protecting your face from the sun's harmful rays. This mineral-based sunscreen is specially formulated to provide broad-spectrum protection, while also being gentle on even the most sensitive skin. The convenient stick format makes it easy to apply and perfect for on-the-go use.
Next, we have the SPF 50 Lotion (3.4 oz), which is ideal for protecting the rest of your body. This lightweight, non-greasy formula absorbs quickly, leaving your skin feeling smooth and moisturized. And at 3.4 oz, it's the perfect size for your carry-on luggage.
Finally, we have the Refresh Hydrating Sheet Mask, which is perfect for refreshing and rejuvenating your skin after a long day of travel. Infused with hydrating ingredients like aloe vera and hyaluronic acid, this sheet mask will help to replenish and hydrate your skin, leaving it looking and feeling revitalized.
With "The Traveler" bundle, you'll have everything you need to keep your skin protected, hydrated, and refreshed while you're on the go. So whether you're traveling for work or pleasure, make sure you have this essential set of Florida Squeezed products by your side.
---